With "The King" expanding his realm to Albion, a far away land far from his Kingdom, his rule, his law and influence.
Albion Online Player Built and Controlled Cities
I came up with an idea however I would like some feedback on it!
With "The King" expanding his realm to Albion, a far away land far from his Kingdom, his rule, his law and influence. New land to be discovered is bountiful in Albion and all you really need to form a Kingdom is a flag and some other things but the flag is most important. How about making Guilds sort of pseudo upstart fledgling Kingdoms. This would allow for Guild structures to be headed by a King with the following monarchical hierarchy such as Dukes/Counts/Lords etc. And that brings me to my thread topic.
Every King/Queen should have a castle to defend his/her land and his/her people. Castles could be built similar to current building system except with walls and stuff. Guilds can spend recources to upgrade specific parts of the castle for instance the walls for better defence. Watch towers to give some vision over the territory that the Castle is built in. A barracks to spawn npc's similar to the current NPC castle system. A Royal Treasury building to store some of the Guilds coin which can be raided in real time by other guilds. Castles can have gates like the current npc castles. Players could possibly build siege equipment to knock down a wall over time or perhaps build ladders or a siege tower. (Ofcourse taking a lot of time to allow the Defenders to rally and not be raided when offline etc). It would be a great feature I feel. True walls instead of the current invisible/red wall things.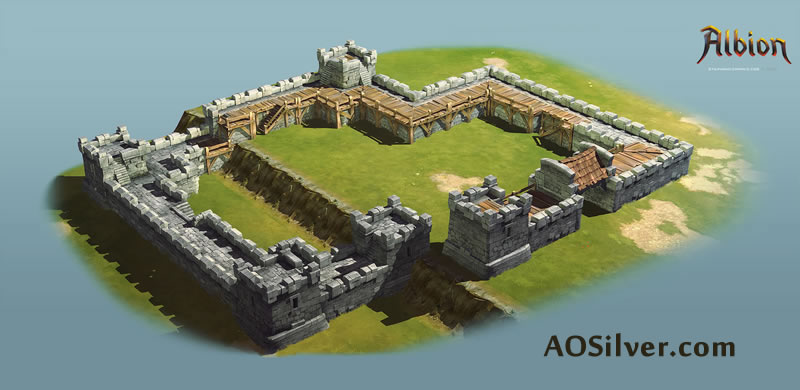 With Castle being a very defensive and military option, Guilds can opt to build a Town which can be completely open to players. The Owning Guild/Kingdom would be responsible for the defense of the towns patrons and its goods. Towns could have a market place, blacksmith, hunters lodge, tavern etc which are focused on bringing in income. This would however only work if the Player/Guild towns were the only towns in the game or if they gave huge bonuses compared to the "Safe Cities" under the King's control such as Queens. Guilds would need to defend and police their city from raiders to protect traders coming and going as well as pouring money in to their town/city to increase the level of the buildings in hopes of bring in more customers and patrons. Raids could be a new system for instance a group of say minimum size 10-20 could declare a raid on a city but couldnt enter or attack it for perhaps 30 minutes to an hour allowing for a defense to be set up.
For this to work it would probably require a big overhaul of the current building system and ultimately make it harder and require many more recources to build things but in return they should give rewards to those who endeavor with them.
Hopefully I made some sense.