When I first noticed/joined Albion Online a couple years ago I was under the impression (whether intended or not)
Is Albion Still the "Albion"?
When I first noticed/joined Albion Online a couple years ago I was under the impression (whether intended or not) that this was going to be a fresh take on a hardcore open world PvP game. After playing in Alpha, I realized that this was exactly what it was and how I wanted/visioned the game to be (or at least on the right track to be that). With each test more and more changes and additions are made that pull further from that original hardcore style of game. I think that is the main reason many (especially Veterans) people are frustrated and voicing their opinions on how they think the game should be.
If I had just noticed Albion for the first time (and it was advertised as just another fairly standard MMO) and this "Final Beta" was my very first test then I would think.... "Hey, this is a pretty good MMO, the map needs some updates, more content is needed, and LP needs some slight tweaking". BUT... the fact that I saw and played the game when it was more in line with the hardcore elements and still have that mentality ingrained in my head that this is what Albion SHOULD be, I get very frustrated and upset with every change that goes against this idea. Albion is turning into another fairly standard MMO and it is probably going to be one of the best ones out there for awhile but it is most certainly not what it was originally intended to be (or at least the original impression it gave off).
There are some other games currently being made that have a very good chance to fill that role that I thought Albion was going to fill. For me this means that I will still play Albion as it will be another good MMO but as soon as another game comes along and fills that hardcore PvP Sandbox Role that I am looking for I will probably jump over.
Here are just a few examples of what I think made Albion more of a hardcore game (off the top of my head). Also, keep in mind that these are not suggestions... this is how Albion was in past tests.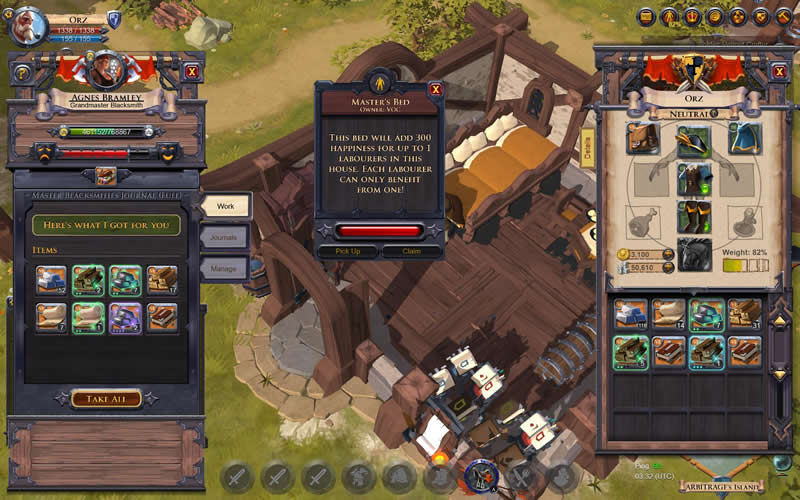 No LP, just straight fame (also solves alt problems)
Fame was like silver. It wasn't always full and this encouraged you to look around for different spots to gain combat fame and explore.
Combat fame was VERY grindy and hard to level up.
VERY small amount of high end dungeons/raids which became highly contested hotspots for PvE and PvP
Gems/Runes/Souls for high-end items that made people go out to these high contested dungeons and raids.
Territories that actually mattered (like essences) excuse my change in tone but who gives a fuck about the current territories? They are worthless.
Repair bills were insanely expensive (even I though it was overkill in summer alpha but I like the general idea)
I know this will never be changed but these Portal dungeons are terrible. I LOVED the old dungeons.
No dueling... and please fuck off arena. (more people went out of the city even if just in the yellow zone)
Gear power gap. I thought it was sweet when 6.6 geared player could crush like 4 people in lower gear. They are risking a shit-load of silver to bring that out and they should be rewarded for it. If I bring out 7.4 set I would not be able to kill 3 people in 5.3 unless they are absolute garbage. I heard ideas about gear capping GvG's and Hellgates etc... at some point high-end gear will be worthless why bother if most things just get capped. Fuck that, this game isn't supposed to be about even fights its a war and if one player/guild/group puts in the money, time, and effort to gain an advantage through gear then good for them. You want evenly geared fights go play a different game.
I am sure I could sit here for a long time and come up with many other examples but this is a list I made on the spot and only took me a few moments.
TLDR: I played Albion when it was advertised as a hardcore game. Each test it pulls further away from this style of game and therefore veterans get frustrated because it is not what we/they think Albion SHOULD be. Albion Online viewed as just another typical MMO is still going to be a good game, just not the type of game we hoped/thought it would be.